40 responders
0 days to go
Closed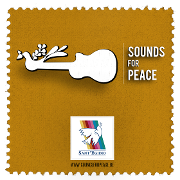 Sounds for Peace is een muziekwedstrijd voor vrede voor jongeren tussen 13 en 26 jaar.
Description
Ben je een muzikant tussen 13 en 26 jaar? Schrijf je graag liedjes? Heb je een band of speel je alleen? Doe dan mee aan Sounds For Peace!
Sounds for Peace is een muziekwedstrijd die georganiseerd wordt door Sant'Egidio (een katholieke lekengemeenschap). De bedoeling is dat je een origineel nummer schrijft over de "vrede" of "vreedzaam samenleven". Dat nummer dien je in voor 15 maart 2015.
Als je lied geselecteerd wordt, mag je het komen brengen voor een vakjury op de finale van Sounds For Peace op 22 maart 2015 in de Arenbergschouwburg in Antwerpen. Je lied wordt beoordeeld op originaliteit, tekst en performance.
De winnaars mogen optreden op het Living Together Festival op 10 mei 2015 voor het MAS in Antwerpen. De hoofdwinnaar mag ook optreden tijdens de internationale editie van Sounds For Peace in Rome, Italië. Daarnaast vallen er nog vele andere speciale prijzen te winnen!
Target:
Band, Solo
Region:
National
Genre(s):
Blues, Electronic, Jazz, Metal, Pop, Reggae, Rock, Urban, World
Compensation:
Fixed
Requirements:
1 song(s)
Line-up: name, function, date of birth, gender
Email address
Phone
Photo
Wat was je inspiratie voor dit lied?